The P. I. Manual, 2nd Edition
A Handbook of Podiatric Medicine and Surgery
The PI Manual, Second Edition incorporates 50 pages of new material which encompasses topics not covered in the first edition and an expansion of the other timely topics into an overall update of all the material. Particular topics of interest include external fixation, antibiotic therapy, orthobiologics, disability and rehabilitation, evidence-based medicine and the hierarchy of clinical evidence. Numerous illustrations have been added and all the illustrations have been revised and redrawn. The use of charts and tables has been increased in an effort to convey the information in a more user-friendly fashion. A comprehensive index makes this an excellent pocket reference guide for students, residents, and podiatric physicians. The PI Manual remains the ultimate board review study guide.


Chapter 1 - Selected Anatomy & Normal Physiology
Chapter 2 - Basic Pathophysiology
Chapter 3 - Selected Diseases and Pathological Conditions
Chapter 4 - Selected Diagnostic Techniques
Chapter 5 - The Perioperative Patient
Chapter 6 - Fundamental Techniques and Procedures
Chapter 7 - Basic Reconstructive Foot and Ankle Surgery
Chapter 8 - Major Reconstructive Foot and Ankle Surgery
Chapter 9 - Congenital Deformities and Juvenile Surgery
Chapter 10 - Management of Foot and Ankle Trauma
Chapter 11 - Foot and Ankle Disability and Rehabilitation
Chapter 12 - Evidence-Based Medicine and Clinical Research



Excellent for . . .
- Board Review
- Residency Interviews
- Daily Clinical Reference
---
Need to Get Certified?
Taking the Recertification Exam?

Certifiable, Inc. has the answer, Boards by the Numbers 2012
An easy-to-use software program designed to help podiatrists prepare for the American Board of Podiatric Surgery exam. The software, is a Windows-based product, endorsed by The Podiatry Institute. It includes a comprehensive set of (board focused) notes (over 300 pages) by The Podiatry Institute, state of the art graphics (MRIs, x-rays, color pictures), practice exams (over 600 questions), and a oral exam section designed to help you develop an organized approach to the oral exam process. The program is downloaded from the Internet and may be activated as soon as your credit card is approved (within 24 hours). The subscription is active for 1 year (365 days) from the time of installation and runs on one computer (great for your laptops).

To order, visit Certifiable Inc's. web site at http://www.certifiable.com/
or call (513) 347-0004.


Certifiable, Inc.
(513) 347-0004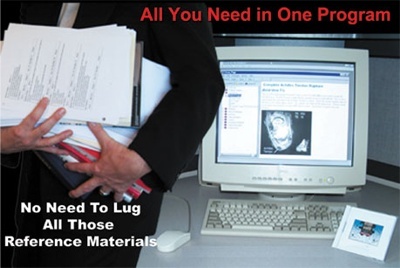 All transactions on this site are guaranteed
safe through NetworkSolutions SiteSafeTM.